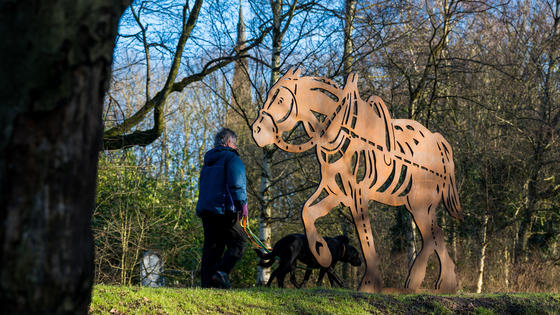 Look out for the new metal sculptures that have been installed along the Bridgewater Canal in Salford. They're designed to reveal some the canal's stories and make it an even more interesting place to visit and spend time. Between Worsley and Boothstown you can spot the Duke, Brindley and Gilbert - the three men behind the canal's construction. At Barton you can see a statue of a navvie - one of the working men who dug out the canal by hand, way back in the 18th century. A majestic horse installed next to the towpath Monton is striking reminder of how boats were originally towed along the canal. And our cheerful Bridgewater Ducks at Worsley are just one example of the wildlife that has always made itself at home along the canal.
We've also created some new family-friendly features at Duke's Drive. A wooden train is a reminder of the busy railway line that used to run through the site transporting coal and passengers. While horseshoe imprints in a new log feature reference the metal horse that is already becoming a popular feature at Monton!
These exciting new features are part of the sucessful Heritage Lottery funded improvement works along the Bridgewater Canal in Salford. To date this has resulted in over £1.75 million being spent on physical improvements including:
• the upgrade to the towpath from Worsley to Boothstown 
• the upgrade and widening of the towpath at Barton
• improvement works to Barton Aqueduct Pocket Park and Duke's Drive
• conservation and lighting of James Brindley's 1761 stone aqueduct at Barton
• and conservation works to Worsley Green Monument and James Nasmyth's Steam Hammer (at Patricroft)
Work will also be starting at Worsley Delph this summer to improve public access and reveal the site's unique historic significance.