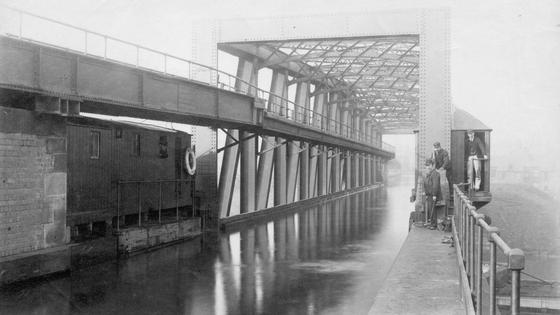 Barton has a long association with crossing points. James Brindley's amazing stone aqueduct of 1761 took the Bridgewater Canal high up over the River Irwell and brought crowds of gongoozlers to Barton to gaze at the sight of boats in the air. Today the site is the point where England's first true canal the Bridgewater Canal crosses the Manchester Ship Canal, one of the most important civil engineering projects of the late Victorian era.
The Barton Swing Aqueduct, Swing Bridge and Control Tower are Grade II* listed structures that are recognised as important and unique feats of engineering heritage and together they define the special character of the area.
The Barton Swing Aqueduct and Swing Road Bridge were built to replace Brindley's 1761 stone aqueduct and a stone road bridge that had crossed the Mersey and Irwell Navigation. The construction of the Manchester Ship Canal in the 1890s necessitated new structures that would enable the passage of large ocean going ships to reach the Port of Manchester, whilst retaining the water and traffic flow along the Bridgewater Canal. The solution devised by the engineer Sir Edward Leader Williams was to design a Swing Aqueduct and Swing Road Bridge which pivoted on an island in the centre of the Ship Canal and controlled via the Valve Tower that remains in use today.
Built between 1890 and 1894, the swing aqueduct represents a particularly unique engineering solution to the unusual problem of a multi-level waterway junction. It is an important early example of the use of hydraulics and roller bearings, and is the first and only example of its type in the world.
The Swing Aqueduct and Swing Bridge were built by the Derby-based Andrew Handyside & Co. who also made the distinctive cast iron red post boxes. 
Incredibly it only takes 2 minutes for the Barton Swing Aqueduct and Swing Bridge to rotate ! 
The Bridgewater Canal Company are currently looking at ideas to enhance the Barton Bridges area. You can find out more about their project by downloading the Barton Bridges Project leaflet below.