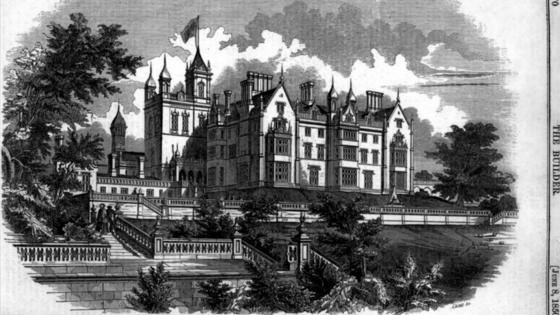 The 3rd Duke of Bridgewater died in 1803 and eventually Worsley passed to his great nephew Francis Leveson-Gower, who under the terms of his great uncle's will took the name of Egerton He came to live in Worsley in 1837 and found it to be "...a God-forgotten place. Its inhabitants much addicted to drink and rude sports, their morals deplorably low, the whole place in a state of religious and educational destitution..."
His efforts to remedy matters did much to improve conditions and his programme of building works helped create the Worsley Village we know today. He built St Marks Church and school, the Courthouse, the police station, and the Aviary as a shooting and fishing lodge; he added the black and white decorative woodwork to the previously plain brick Packet House and he started a swift packet boat service on the canal.
He built a splendid new mansion, Worsley New Hall. The New Hall was to replace the Brick Hall, built in the 1760s as the official residence of the 3rd Duke of Bridgewater. The new building was an immense structure designed by architect Edward Blore in the Gothic style and was completed in 1846 (the year Lord Francis became the First Earl of Ellesmere). Its most distinguished guest was Queen Victoria who stayed at the hall twice.
The New Hall with its formal landscaped gardens was described in A Guide to Worsley: Historical and Topographical (1870) as 'comparable with any of the mansions of the nobility in the north of England; it is an ornament to the county in which it stands'. Dr Mike Nevell from the University of Salford (who carried out a recent research project at the site) referred to the immense structure of Worsley New Hall with its lavish gardens and illustrious visitors as 'a reflection of the 19th century industrial might of the North'.
Over the course of the early 20th century, the Hall fell into disrepair and in 1944 tenders were put out for the demolition of the New Hall and it was eventually sold to Sydney Littler, a scrap merchant from Ashton in Makerfield for £2,500. Demolition began in 1946 and by 1949, just over 100 years after it had been built, the Hall was completely demolished. 
Between 2011 and 2014 the University of Salford carried out a project to research the heritage of Worsley New Hall alongside an archaeological excavation on site. One legacy of that project is a fascinating online archive with a detailed history of the New Hall, timeline, images, oral histories and even a version of the Ellesmere Polka which was composed for Queen Victoria's visit in 1851. 
Thanks to the University of Salford Archives and Special Collections for this story.