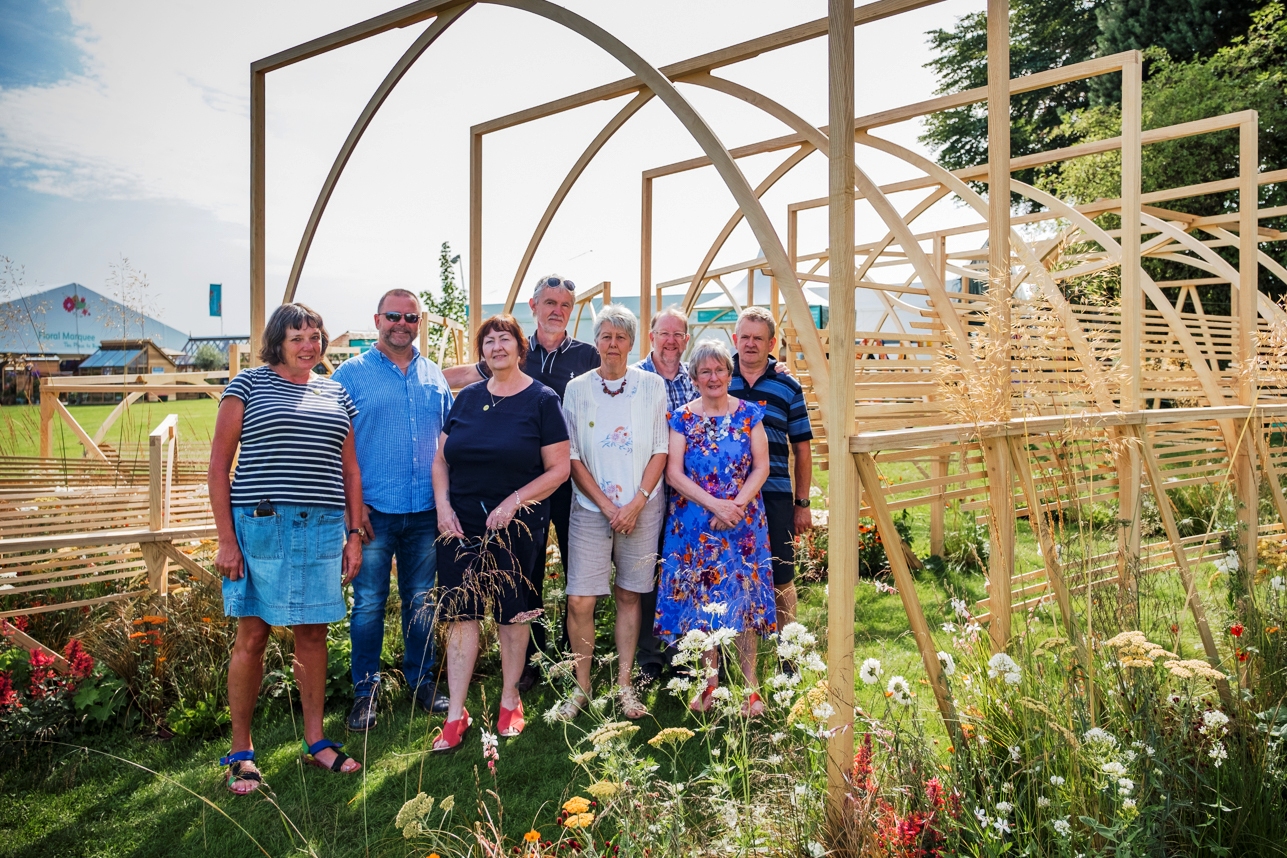 Bridgewater – Canal, Coal and Craft was our award-winning horticultural celebration of community pride in Salford's Bridgewater Canal. The first true canal in Britain.
Showcasing the pride of local communities in this historic waterway, the exhibit featured a 20 foot wooden boat handcrafted by local volunteers and a unique knitting installation #FLOATIEST made up of hundreds of squares produced by enthusiastic knitters and knitting groups. Local residents helped to install the structures and plant the garden which was named as Best Show Feature at RHS Flower Show Tatton 2017.  
Designer Tim Denton created a unique space to showcase the work of local volunteers with a series of wooden arches that echo the structure of the underground mines from which coal would be brought to the surface at Worsley Delph and transported by boat along the canal to Manchester. Tim also designed Blooming Bridgewater, an ambitious wooden shed structure that people may remember from RHS Tatton 2016.   
The wooden boat was inspired by the starvationer boats that were used to mine coal in the flooded underground mines of Worsley. The boats became known as starvationers due to their exposed ribs. 
The planting was designed RHS Young Designer of the Year 2016 and Chelsea Gold Medal winning garden designer Caitlin McLaughlin from Thrift Landscapes. It is inspired by the canal's unique and famous colour – an orangey brown - due to the iron oxide in the water. 
As well as crafting the boat and creating the knitted structure, local volunteers helped to construct the show exhibit and plant up the space. 
Bridgewater volunteers play a huge part in helping to make the canal in Salford a better place having given over 11,000 hours of their time to date, including planting trees, creating flower meadows, developing a community orchard, improving paths and building benches.