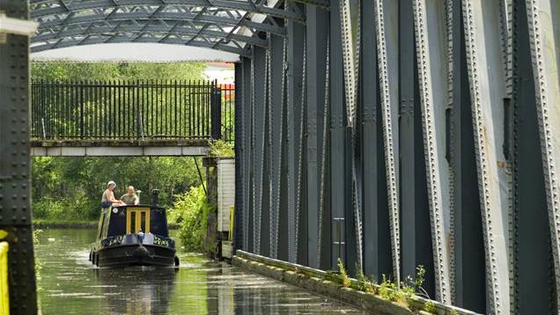 INDUSTRIAL SIGNIFICANCE
When the Bridgewater Canal reaches Barton, it takes an unusual turn… upwards. The Barton Swing Aqueduct carries the canal over the Manchester Ship Canal. The engineer, James Brindley, demonstrated how the original stone aqueduct would work to a parliamentary committee by creating a model from a wheel of Cheshire cheese.
In the late 19th century, the stone aqueduct and road bridge were both replaced with cutting edge swinging versions. When the ship canal was busy, travellers crossing between Barton and Trafford often found themselves 'bridged', waiting for ships to pass and the road to return.
Barton retains its industrial heritage but Barton Aqueduct Pocket Park boasts a range of wildlife and great views of the Swing Aqueduct. You can also see the remains of Brindley's original stone aqueduct, providing a very visual link to the earliest days of the canal and the ingenuity of its builders. Look out for the stonemason's marks on the structure, the 'signatures' of individual craftsmen.