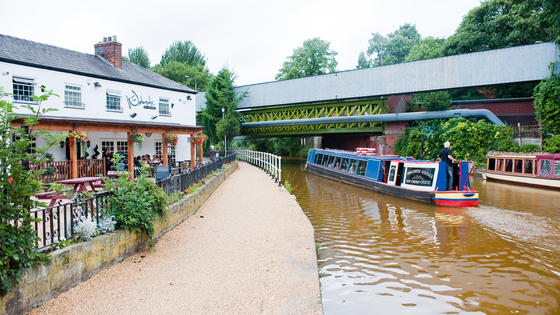 GATEWAY TO THE CANAL
With a wealth of bars, cafés, shops and a lively village feel, Monton is a great place to start your Bridgewater Canal adventure. It's also home to one of the quirkiest landmarks in the area – Salford's only lighthouse. Built on the canalside in the 1980s, it obviously couldn't fulfill the usual role of a lighthouse. Instead it was built as a folly and is now well-known in the area.
The old railway loopline, which once carried coal and other goods through Monton during the Industrial Revolution, has been transformed for cycling and walking and now forms a link to the canal, Worsley, Roe Green and beyond. But don't feel you have to rush; Duke's Drive, between the canal and the loopline is a green oasis in the centre of Monton, the perfect place from which to explore the surrounding area and a lovely spot to stop off for a picnic.