We are offering the opportunity for groups of young people to experience the Bridgewater Canal up close from the unique perspective of a canoe.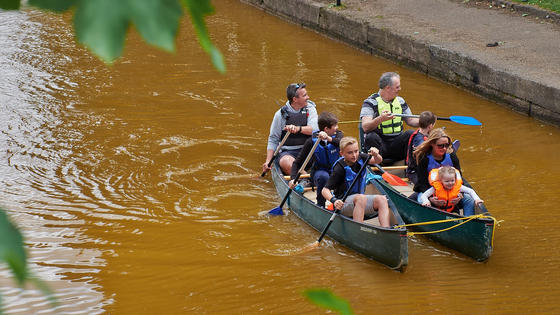 We're working with the experts at
Helly Hansen Watersports Centre
to provide canoeing trips for groups of young people along the Bridgewater Canal from Patricroft and Boothstown. Each session takes place on a Saturday from 10.00am to 2pm and can accommodate a maximum of 14 participants. Following an initial introduction to paddle skills participants will then take part in a canoeing trip of approximately 6km (3km each way).
If you are a community group (such as cubs, brownies. scouts, guides or sports clubs) working with young people from Salford who would be interested in trying out canoeing on the Bridgewater Canal please get in touch. We are especially interested in community groups from the following areas – Barton, Boothstown, Eccles, Monton, Patricroft, Winton and Worsley. 
Additional information
• Most of the time on the trip will be spent on the water. 
• Average speed for a canoe with children is about 3km per hour. 
• Fitness wise it's a very gentle sport so should be suitable for all abilities. 
• Helly Hansen Water Sports Centre would suggest groups bring their wellies (or shoes they are happy to get wet) and some food & water for their lunch break (in a plastic bag is best!)
• Sessions go ahead in all weathers so we ask that participants come prepared for being outdoors in seasonal conditions (Hats, gloves, waterproofs and lots of layers in winter. Sun hats, sun cream and water bottles in summer). 
This project is supported with funding from the Heritage Lottery Fund and Salford City Council.