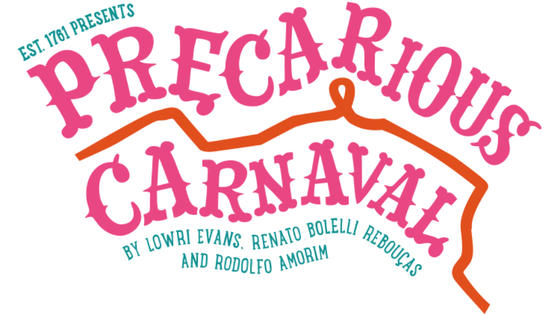 Friday, July 5, 2019 - 20:00

to

Sunday, July 7, 2019 - 17:00
Precarious Carnaval
By Lowri Evans, Renato Bolelli Rebouças & Rodolfo Amorim
 
Celebrating the Bridgewater Canal's 258th birthday, Precarious Carnaval invites audiences on a weekend walking adventure with performance, personal stories and parties, where nothing is as it seems...
Last year, award winning theatre makers from Brazil and the UK spent a month living along the Bridgewater Canal, getting to know the waterway and the people that use it. During their time they fished for stories, made costumes, took portraits of the people they met, set up beaches on the canal banks and said hello to every person they passed.
They started scheming Precarious Carnaval which will mix Brazilian festival with a distinctly Salford feel, a weekend which will pull together hundreds of local people for a colourful celebration of community connected by one very special canal. It will be joyous and jagged, perfectly precarious as we wonder: where are we heading?
There will be lots of ways to get involved in the weeks leading up to the weekend, whether you are a group or individual, young or old, never done anything like this before or have loads of experience. We will be working with makers and shakers from across Salford before bringing them together and building something precariously perfect.
One canal. Three days. Five miles. What could possibly go wrong?
THIS CARNAVAL WANTS YOU!
If you would like to get involved, this is your chance. Whether you fancy yourself as the canal's next carnival queen or Salford's next samba dancer, there's an opportunity for everyone to take part and build something together.
We are looking for makers and shakers, builders, bikers and boats. We're looking for knitters, actors, dog walkers and even balconies overlooking the canal. If the canal holds a special place in your heart or you have a story to tell, we want to hear from you. 
We can't have a carnaval without you!
Find out More
You can come along to one of our Precarious Discovery Days here and here.
You can get in touch and find out more by emailing precariouscarnaval@gmail.com​
You can get a taste of what is to come here:
You can see what Lowri and Bolelli got up to on their residency here:
Precarious Carnaval is supported by Arts Council England, The Lowry, Community Fund and Superbia at Manchester.