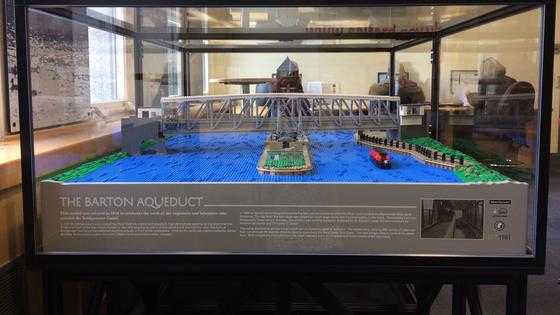 A working model of the famous Barton Swing Aqueduct was created for the Bridgewater Weekender 2017.  It was used for family-friendly workshops where a replica of  the original stone aqueduct was also created in LEGO. All part of our Est.1761 project to regenerate and celebrate the historic Bridgewater Canal in Salford.
The model also depicts the remains of the stonework from the original aqueduct built in 1761 to carry the canal across the River Irwell. It was a wonder of the age, built for Francis Egerton the 3rd Duke of Bridgewater.  Work on the canal was masterminded by James Brindley, famous canal builder, and John Gilbert the Duke's estate manager.  The canal carried coal from the mine entrance at Worsley Delph to the growing industrial centres of Manchester and Salford.  At a time when roads were almost impassable coal became easily available, kick-starting the Industrial Revolution.
The aqueduct had to be completely redesigned with the arrival of the Manchester Ship Canal in 1894. The new canal was created for much larger boats than had ever sailed up the Irwell. The aqueduct and the Bridgewater Canal were in the way. The solution was the world's first and only swing aqueduct. The real thing was designed by Sir Edward Leader Williams and built by Andrew Handyside and Company of Derby. Our model was built by professional LEGO builders at  Bright Bricks.
The real swing aqueduct is still in use today. It is an iron trough which can be closed by gates at each end. The whole thing, carrying 800 tonnes of water then turns through 90 degrees allowing ships to pass along the Manchester Ship Canal.  The aqueduct and the nearby road bridge are controlled from the tower between them on an island built in the middle of the ship canal.  Our model has remote control, allowing it to open, just like the real thing, complete with a LEGO narrow boat passing by.
Barton Aqueduct Pocket Park, a green oasis nestled close beside the 1761 stone structure on the Salford side of the Ship Canal, has been renovated to give better views of the aqueduct.  Lighting shows up the stone masons'  marks and a walkway leads down to a view point beside the Ship Canal.
The model was used to inspire a new generation of engineering geniuses as part of workshops with local schools for Science Week 2018.
You can see the LEGO model at Eccles Gateway where it is on public display in the entrance area.