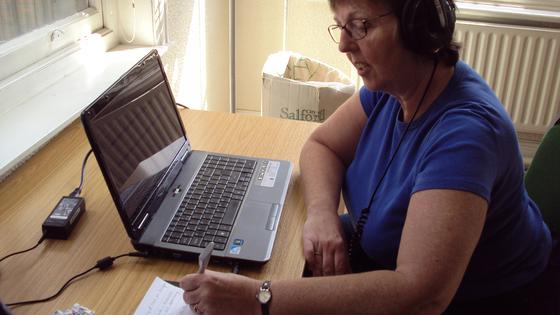 Elaine left her work through early retirement to take on a caring role in her family. 
She picked up an Est.1761 leaflet in the library and saw opportunities for volunteering.
"The heritage group appealed to my interest in local and industrial heritage. Meeting like minded individuals was a breath of fresh air, taking me away from my family duties. It gave me another purpose".
Having grown up in the local area Elaine has her own memories of the canal and a highlight for her has been the 'Soundwaves and Waterways' project. She has been recording memories and capturing bygone times from those who have witnessed changes along the canal.
Elaine also regularly assists at events,engaging others both in the history of the canal and in ways which they can enjoy the canal today. "There are so many activities on offer for all. One of my first opportunities was to help at Manchester Histories Week at the Town Hall where the Bridgewater Canal project had a stall. It was packed and I engaged with many members of the public. I love talking to people". 
"Best thing is it's given me so many opportunities to learn!"